You started a blog, crafted stellar content, and waited for the traffic to start pouring in.
But it didn't. Not the way you pictured it, anyway.
How do you learn how to grow your blog traffic and keep them coming back?
Good question.
It doesn't have to be a bothersome or tiresome task.
I started my blog in November 2016 and almost immediately saw a surge in traffic (and continue too), and I know it's down to a few simple things I've implemented. 
I'm not special in this sense either.
You may hear that most bloggers don't succeed, and yes only a small percentage actually make it big…
BUT, the thing is – if you work your butt off from day one, find the right strategies to learn how to grow your blog traffic, and add a little sprinkle of confidence – you'll do just fine. 
So many of us don't truly believe we will succeed, and in that lies the problem. 
We give up before the miracle can happen. When you work hard, know the right strategies, believe in yourself, and don't quit – you'll succeed. 
I know these strategies and tips will work for you too, so read on, and lets grow your blog traffic and income.
 * Disclaimer: This post may contain affiliate links. That means, at no cost to you, I will receive a small compensation if you purchase something through one of those links. I ONLY promote products/services I have personally used and love. This helps run The Beautified Life – so thank you so much for your support! *
1)Write For Your Audience, Not Yourself
One of the most crucial things to remember, if you want your blog to thrive and stand out from the crowd –  is to write for your audience.
Address their pain points in every post, solve their problems. And they'll keep coming back! 
Unless you're a celebrity or have millions of page views per month, your blog shouldn't be about yourself and your life all of the time.
Nobody cares.
And that's the cold hard truth.
And even if you do have a gazillion page views per month, I wouldn't suggest writing about yourself all the time. Unless you can put a spin on it to make it exciting, engaging, and beneficial for your readers. 
The most successful and accomplished bloggers are those who are solving a problem for their readers. So if you want to learn how to grow your blog traffic, you're going to have to do the same. 
I'm not saying you can't add a few lines about that killer trip you just took, or your new puppy. I'm saying make sure you're solving an issue for your readers and giving them something out of your content. 
You can even write about your recent trip! There are lots of successful travel bloggers. But they gear their posts to benefit their readers in some way and make it intriguing for their audience.
Identify who your target audience is, figure out their pain points, and solve their problems in every post.
And you'll have dedicated readers who not only respect your opinion, but they'll keep coming back time and time again.
But the vital part is finding out exactly who you're target audience is, getting inside their heads (with market research or other ways), and then making your content tailored to the major problem they're facing.
There's a reason that the super-successful bloggers you see all over social media and the internet are all writing informational posts.
Learning how to grow your blog traffic isn't easy – but the key is writing your audience, not yourself.
If you can master that, everything else will fall into place. 
2) Participate In Online Forums
This is something I've recently implemented, as it was recommended to me by several accomplished bloggers. Even the extremely successful Neil Patel uses online forums to drive traffic back to his websites. 
I was skeptical at first, but it's now part of my routine.
If you really want to figure out how to grow your blog traffic, you have to think outside the box. 
I try and spend 15 minutes a few days a week participating in online forums like Quora.  Some days I don't have the time at all but the point is trying to make time for it.
If you're not doing anything to grow your blog traffic, and aren't making it a priority  – well, nothing's going to change. 
There are plenty of people on forums who ask questions related to every niche. (Even the most bizarre topics you could imagine).
You can answer questions related to your niche or blog topics, and leave a link to a recent blog post (if it's relevant to their question and providing value), and this will bring organic traffic back to your site.
Easy-peasy!
It's an excellent way to get your name out there in cyber-space and help others at the same time.
Just make sure you're providing value.
Don't just don't your blog's link everywhere possible and call it a day. 
And a bonus? You will surely find ideas for blog posts in the process!
3) Post outstanding, long-form content, frequently
A common misconception in the blogging world is that a 300-word blog post is sufficient and it will rank well on Google.
However, that couldn't be farther from the truth. 
It is the norm to post a 2000-word blog post or longer. And there's a good reason for this.
Yes, I know there is a small percentage of bloggers who do well writing extremely short content. But…
I realize in a world full of short attention spans this may seem like too much for our readers to ingest – however, most of them would actually prefer an in-depth post that fully solves their problem, then a short post that barely covers the topic.
The posts that do the best are How To's, listicles, ultimate guides, and tutorials. And you just cannot deliver a valuable tutorial in 300-words. 
This is why extraordinarily successful bloggers like Neil Patel and Melyssa Griffin are choosing to write colossal posts that range from 2000 to 5000-words. Woah… I know!
Although I haven't gotten up to 5000 words myself; I never write less than 1500-words, but usually it's 2000-2500-words. (This post is over 3000-words and some of my newer posts that perform quite well are even longer!). 
Although blogs who post more frequently tend to do better, it's always better to provide good-quality pillar posts less often than spewing out 7 sub-par posts in a week.
Implement long form (quality) content on your blog, and
4) Participate in Facebook Groups for Bloggers + Creative Entrepreneurs.
Participating in Facebook groups for bloggers and creative entrepreneurs is something I have done even before I launched my blog.
There are oodles of fabulous groups to help grow your blog's traffic and expose you to a new audience.
There are all kinds of different groups, but a few of my faves are this one, this one, this one, this one, and my new one.
Be sure to read each group's individual rules, but in most of these groups, there are threads to share your recent blog posts, your social media handles, and freebies/opt-ins – or a day each week to post them.
I also have a Facebook group for female bloggers and entrepreneurs. If you would like to join, click here. Then make sure to take a peek at the pinned post. 🙂
Facebook is my second largest source of referral traffic – and that all comes down to these groups. They are magnificent and will definitely help grow your blogs traffic and your income. 
I would suggest carving out time every single day to participate in these groups.
I'm a member of about 30 amazing Facebook groups that have helped to grow my blogs traffic and have also gotten me some freelance writing gigs!
Make it a priority to participate in these groups every day. Although I do skip on online forums some days, I never miss a day when it comes to Facebook groups.
They'll become invaluable to your blog's success.
Psst… Another amazing tactic you can implement is starting your OWN Facebook group!
Well some have been closing down, others have been majorly capitalizing on them and creating a Facebook group and turning it into a money-making machine!
This is something I've been doing recently. I have a group FULL of ONLY my target audience.
5) Guest Posting on popular blogs in your niche
You've probably heard the importance of guest posting on other blogs, but you may have been putting it off.
Maybe even thinking that's it's not worth the time and effort.
Am I right?
I wasn't sure at first, either. I didn't think it would make that much difference, and frankly – who has the time?
Make time. It will be one of the best things you'll do your blog. 
Not only will this increase your online presence, it will expose your blog to a new audience.
But that's not all. This will certainly boost your rankings on Google because with guest posts you always get an opportunity (or a few) to link back to your website.
Not convinced yet? I've got more. 
Guest posting will boost your authority in your niche, which is something you definitely want.
And of course, the most obvious reason: Guest posting can dramatically grow your blog's traffic.
I'd recommend submitting a guest post as often as you post on your blog, as a new blogger.
I know, that sounds like a lot of work.
But, it'll massively pay off.
You can link to your freebies (hello, new email subscribers), your business (if you're a freelance writer, like me, or a VA, a coach, etc), or you can link to your blog to grow your blog traffic.
Either way – it's well worth the time, and has a high ROI (return on investment). 
What's the point of writing stellar content if no one is reading it?
If you really want to figure out how to grow your blog traffic, guest post. Guest posting is a surefire way to get traffic back to your blog.
And not just on huge websites like The Huffington Post. Guest post on popular sites in your niche.
Contrary to popular belief, you don't have to post on HUGE websites to build your credibility and to build your website traffic.
Guest posting on popular blogs in your niche will do the job, and can even provide better results.  Even if they have far less page views.
And if you're a freelance writer, like me – this is a wonderful way to craft quality samples to show to prospective clients.
6) Pinterest. Oh, Pinterest. 
If you're not yet harnessing the potent powers of Pinterest, I suggest you get on that bandwagon, immediately.
It's been the best thing I've done for my blog, hands down. 
70% of my blog's traffic comes from Pinterest, making it my largest traffic source.
I'm sure this isn't news to most of you, but many bloggers are seeing incredible results after implementing certain strategies on Pinterest.
After implementing the Pinterest strategies I talk about in this post, I saw a dramatic spike in traffic. But my largest spike ever was after I signed up for Board Booster.
If you set up BoardBooster the RIGHT way, you won't ever have to schedule pins again! Set it and forget it! 🙂 
The beautiful thing about Pinterest (one of many), is that your pins virtually live forever. A pin you posted 6 months ago could randomly go viral, and that would bring an enormous surge in traffic to your site.
The lifespan of a pin is one week! Compared with Facebook that only has an 80-minute lifespan – I'd say that's pretty good.
Just make sure you have various opt-in forms or a CTA  (call to action) in those posts so that the traffic isn't wasted when your pins do go viral!
related:
7) Comment On Other Blogs Frequently + always reply to comments on your own.
It's no secret that it's vital to establish an online presence in the blogging world.
But you may not realize the importance of commenting on other blogs.
When you leave valuable, genuine comments on popular blogs, you are more than likely going to see a slight increase in traffic (or a massive difference, depending on how much you comment and if it's authentic).
You also build relationships.
Networking with other bloggers is invaluable. 
Just remember, when you're leaving a comment, make sure it's genuine and not something like "nice post".
Those types of comments are useless and insincere.
It's equally as imperative to always reply to comments on your own blog. 
I see this every day: you land on a blog where there are hundreds of comments, and the owner of that website hasn't replied to a single comment. It builds relationships with your readers when you engage. And when you don't..well, it just looks bad.
Not to mention, they will be much more likely to return to your blog and leave a valuable comment in the future.
8) Promote, Promote, Promote!
What's the point of creating an awe-inspiring blog post if nobody is actually reading it?
A surefire way to ensure your blog posts are being read is a top-notch promotion strategy. 
And I don't mean just once when you publish it.
No, you need to promote that post in every way possible, as much as you can.
I'm not saying post it on Twitter 30 times a day or anything.
But, you should post it on every social media platform you're on when it's published, and then wait a few days and do the same thing.
Keep promoting it sporadically for as long as you can. And ensure to revive older posts! Dom't let them get stale. Update them, and start promoting it like it's a new post. 
9) Get Tweetin'
If you're not on Twitter, you need to be.
I know, I didn't get what all the hype was about either. I thought Twitter was just for celebrities and teenagers.
But it's not. 
It took me awhile to get in the groove, but in less than 2 months I have grown my Twitter to 1,300 followers, without hardly lifting a finger.
It's a fantastic place to promote your blog, build your audience, and connect with like-minded bloggers and online biz owners.
I schedule 4-12 posts a day on Twitter (through Buffer), and I have found that I'm actually seeing an increase in my blog traffic.
It's a fabulous platform for bloggers and business owners – so if you haven't taken the leap, you need too.
You won't regret it, I promise. 
10) Schedule Your Posts on Social Media + Delegate Tasks. 
The only reason bloggers are able to appear to be present on social media 24-7 and have somewhat of a life, is by scheduling our posts and delegating tasks where appropriate.
It's best to schedule your posts to trickle out throughout the day, not all at once.
This will get your content seen by a much larger audience.
I don't know about you, but my reader's locations vary.
The majority of my readers are from the US, and I live in Canada. So there's no way for me to know exactly what time it is where everyone lives, so if your posts go out at different times during the day, you have the best chance of getting the most eyes on your content.
For Twitter and Facebook, I use Buffer.  I love Buffer because you can schedule up to 10 posts at a time for free, or if you pay $10/month you can schedule 100 for each social media platform.
That works out to about a month for me for my Facebook group, my Facebook business page, and my Twitter.
If you follow my blog, you know that I am obsessed with BoardBooster.
I even put together a Board Booster tutorial, to show you how to set it up once and forget it.
That's right – no scheduling your posts for hours every week. Only if you add group boards you need to log into Board Booster. 
11) Make SEO your best friend
One of the best ways how to grow your blog traffic? SEO.
SEO (or Search Engine Optimization) is key if you want to grow your blog traffic. Pinterest and social media referral traffic sources are excellent – but you cannot beat organic traffic!
Going into SEO in detail will be a whole blog post in itself, but there are a few ways you can up your game and start seeing some organic traffic.
Keywords.  Research your keywords before you write your blog posts, and then insert them in your title, meta description, in the URL, and throughout your post.
Install Yoast SEO Plugin. This plugin will help you with a variety of SEO tasks and will make it much easier to implement SEO on your blog. Just go to 'Plugins' in your WordPress dashboard, click on "ADD NEW", and search for Yoast SEO. Install, activate it, and get it configured. (Here's a great resource to get it set up, and another).
Use Headings in your posts.  Not only do headings format your content better, Google likes headings (especially H2's). If you're using WordPress you would click "paragraph" in your toggle bar, and you'll see all of your options for headings.
Link to older content in your posts. When you're crafting a blog post, make sure you link to older content where it's relevant. This is called Interlinking. Interlinking is fabulous for SEO, plus it gets more eyes on more of your content. Win, win!
Optimize your images for SEO.  This step is vastly overlooked by many bloggers.  First of all, make sure you are naming your images something relevant that contains your keywords for that post. So no "image.1234", capeesh? Next, ensure you're filling out the alt text for each image. This tells search engines what your image is, which is crucial for SEO purposes.
12) Invest in your blog/biz
This is something that can be challenging for new bloggers because, for many of us, we just don't have "extra" funds. I totally get that.
Believe me, I do. 
But who is going to invest in your business if you're not willing to do the same?
Think about it.
It's essential if you're serious about blogging. Especially, if you plan on making a full-time income blogging.
For starters, you must invest in setting up a proper website. I recommend going with self-hosted WordPress, to learn the reasons why and a full comparison of popular blogging platforms – check out this post.
Next, it's vital to invest in proper resources and education to further your knowledge and expertise in your niche.
I have taken a few courses (including Write Your Way To 1K), and these are some of the best decisions I made for my blog and my business.
A course I fully recommend for new bloggers or aspiring freelance writers is Write Your Way To 1K.
This course teaches you everything you need to know to become a full-time freelance writer.
I interviewed the course creator, Elna Cain, about how she was able to start a profitable freelance business in only 6-months, and now 3 years later she's only working part-time but continues to rake in that full-time income.
If you're curious about freelancing, this course takes you through every step of it. Finding a profitable niche, finding high-paying clients, pitching templates, tons of bonuses like e-books, and much more.
Can you tell I'm in love with this course?
That's because it has catapulted my own freelance writing business.
So I'm confident in the process and know if you've been wanting to jump into a freelance career or side gig, you need this course in your life.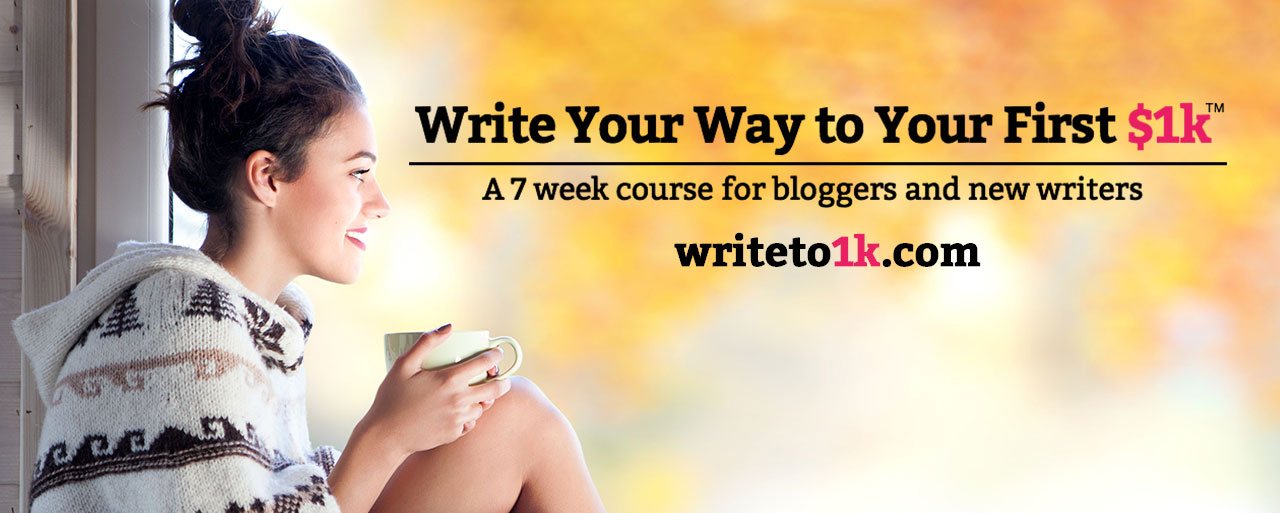 If you implement these tips and strategies, you can grow your blog traffic massively.
I have seen a major difference in my own blog, and it keeps growing every single day.
Blogging has been a life-changer for me. For the first time in years, I have a purpose and something I am truly passionate about.
But don't get me wrong, it's a heck of a lot of work.
You won't learn how to grow your blog traffic or see any real traction if you're not putting in your all.
You have to be 100% dedicated, every day.
Otherwise? You'll find yourself stuck. 
What has helped to grow your blog traffic? Let me know down in the comments.
Until next time,
XO, Alee
RELATED POSTS: