Having the ability to stay at home with your little ones while raking in the dough sounds like a dream come true, right? 
There's no reason this has to be out of the realm of possibility for you.
You can make money with your blog in more ways than you probably have ever imagined. 
Moms (and people in general) are making a living at home, all over the world. 
And most of those people, probably have blogs. In fact, I'm sure most of them do! Because so many opportunities can stem from having a blog, and many doors are opened when you're a blogger.
It makes no difference if you're a brand new blogger, or have been at it awhile.
So why shouldn't you be one of those people building an empire from the comfort of your own home?
I know what you're thinking: I don't even have time to shower, let alone start and run a money-making blog, all well taking care of my children and my home.
But here's the thing- you hold all the power when it comes to what you do with your time.
Are you going to have to put in some late nights?
Yes.
Are you going to want to pull your hair out sometimes, because you're so overwhelmed with it all?
Yes, ma'am.
Will it be amazing, fulfilling, and absolutely worth it? You betcha! 
Ready to make money with your blog? let's dive in!
Disclaimer: This post may contain affiliate links. That means at no extra cost to you, if you purchase something through one of those links, I will receive a small compensation.  All products/services I recommend are things I personally use and trust. This helps run The Beautified Life – so thank you!!
Here's a breakdown of 4 ways you can make money with your blog as a stay-at-home mom
1) Freelance writing
If you follow my blog, then you're familiar with the fact that I'm a freelance writer. I started freelance writing almost eight months ago, but I didn't get serious about it until the past few months.
This was the best decision I made for myself and my family. 
You don't need any sort of journalism degree to become a freelance writer either. (Like I originally thought). Heck, you don't even have to be a spectacular writer.
What you do need to be a successful freelance writer, capable of earning a full-time income, is a lot of patience, perseverance, and the ability to be able to throw a proper sentence together. That's it. The rest you can learn along the way (like I did!!)
My suggestions if you want to become a freelance writer:
Start a blog.  This is an excellent way to display your portfolio, get new clients, and get your foot in the door in the blogging world. You can create an unrelated blog first (like this one I have) and just have a "Hire Me" or "Services" page.  Or, you can get right to it and create a writer's website that's strictly about your freelance writing services. Either way is fine since your blog/website won't be the only way you find clients. Don't have a blog yet? No worries, it's super easy to get started!
Soak in as much knowledge as possible. Most freelance writers are going to be writing blog posts so you will want to familiarize yourself with how blog posts are correctly formatted. You will need to learn how to properly format a blog post, and learn how to use a Content Management System, like WordPress. Take a look at how this blog post is formatted, and you will get an idea of how you should be doing it. (Lots of H2 and H3 subheadings, bullet lists like this one,  lots of white spaces, images to break up the text, and short paragraphs.) You will also want to become an avid researcher. Writing for clients involves loads of research sometimes, and they will want fact-based articles, not your opinion or personal experience. You also will probably want to take a few courses to learn as much as possible. The one freelance writing course I have taken, and fully recommend is Write Your Way To $1K. It's the only reason I'm making money now with my business.  You will also need to use an editing software like Grammarly, and then I would also check it through The Hemmingway App (free) after you're done an article for a client as well.
Decide on your freelance writing niche.  The thing is, nobody wants to hire a "general" freelance writer. They want someone who specializes in that particular niche. They want an expert. And that's where the real money is at anyway. None of this $30-50 per post nonsense. Find a profitable niche, and you can earn hundreds, for one blog post. Yes, hundreds. For example, I market myself as a "Professional B2B Freelance Writer". This means I write for B2B (Business to Business) clients. So, niche down as much as you can before you think about going forth with your new career, this is crucial in laying down the foundation for your business.
Create a portfolio. I know, you're probably thinking: But how can I have a portfolio to show clients if I haven't actually worked with any clients before? The easiest way is to have your own blog, so then you can use your own blog posts as your samples. If you don't have a blog, you can craft some samples in Google Docs that are relevant to the types of jobs you're going to pitch too. And then get a shareable link in Google Docs, and share those with potential clients, as your samples. Side note: make sure it says you're a freelance writer in all of your bio's on all of your social media accounts, and wherever else you can sneak it in – so it's abundantly clear that YOU are a freelance writer. 
Get out there and pitch your services! Now that you have a freelance writing niche and a website, you can figure out who to pitch your services too. I'm a B2B freelance writer, so I cold-email marketing managers, CEO's and business owners of companies I want to work with. I generally stick to the digital marketing niche (which is a highly profitable niche by the way if you're still figuring out yours), but lately, I have been taking on gigs in all different industries. Healthcare, construction, infant formula companies – you name it.  The best way to tell if a company hires freelancers is to check out their website and see if there are different writers contributing to the website's blog. Also, if they have a marketing manager, they have a marketing budget. Which means they may be open to content marketing. So there's your in.  You can also use job boards – but be cautious. Many job boards are chalk-filled with low-paying gigs that you don't want to touch with a ten-foot-pole. Problogger.com and freelancewriting.com are great job boards. I wouldn't waste my time with sites like Fiverr, Upwork, or Guru, though.
One thing that has catapulted my freelance writing career is Elna Cain's freelance writing course Write Your Way To $1K. In fact, it's the only reason I've been able to make money as a freelance writer!
Before I started her course, I really had no idea what I was doing. I was wingin' it. Her course teaches you how to find your profitable writing niche, how to create your writer's website, how to find high-paying clients (I'm talking about $100-500  A POST), how to cold pitch, and how to earn your first $1000. 
It also comes with some killer bonuses that have helped me tremendously. Free e-books, cold pitching templates, guest posting templates, job board templates, and a bunch more helpful extras.
If you're a stay-at-home mom looking to start a side hustle to make money with your blog, freelance writing just might be your thing!

2) Offer Another Service
The options are endless when it comes to services you can offer as a stay-at-home mom. Starting a blog is an excellent first step when you decide you want to offer a service; it makes it much easier for your clients to find you.
Almost every successful blogger I know (well, virtually know) offers some sort of service to supplement their income. And then there are the women who are making four and five figures a month with their services they offer.
Not bad, right?
There's no reason that can't be you. There are so many possibilities when it comes to offering services. Why wouldn't you hop on this bandwagon?
Here are some popular services you can offer as a stay-at-home mom or blogger:
Virtual Assistant (VA).
Coaching.
Social Media Management
Email Marketing
Editing or Proofreading.
Branding Services 
Translating
Online Teaching or Tutoring
Web Design
Web Development
Pinterest Manager or Pinterest Marketer
And, the list goes on!
If you're anything like me, you'll probably try out a few different things before you find what you're truly passionate about. Or maybe that's just me? I tend to put way too much on my plate, and then complain I have no time. Go figure.
So, perhaps stick with one service, so that you don't get overwhelmed. Every service I have mentioned in the above list, is a profitable service, that you can make a decent living with.
3) Monetize Your Blog
Now, there are numerous ways you can make money with your blog that doesn't involve offering a service. But, you may want to diversify your income by monetizing your blog directly and perhaps offering a service. (Or create your own products, but we'll talk about that shortly).
I should say right off the bat, I don't think monetizing your site with ads is the way to go as a new blogger. I personally don't like ads on other sites, but that's not why I suggest you don't do it.
The reality of being a new blogger is that you will start with zero traffic. You will have to work hard every day and hustle to build your readership. It doesn't happen overnight.
With advertisements, like Google Ad Sense, you would literally make pennies off a new blog. You'd annoy your readers, for pennies.
Now, it's a personal choice. But it's not usually recommended by the experienced bloggers like the lovely lady at Femtreprenur.co.
Perhaps once you have 50,000-100,000 monthly views, then you could consider adding ads. But if you rock these other ways to make money with your blog, there will be no need to put advertisements on your website. 🙂
Bottom line: You won't make much money if any with ads – when you could be spending your energy elsewhere and actually pulling in a decent amount.
So how else can you make money from your blog, other than slapping up some ads?
Affiliate marketing. Michelle from Making Sense of Cents pulls in over $50,000 a month from affiliate marketing. (She makes well over that with her other income streams from her blog, though).
If that's not inspirational, I don't know what is!
With my own blog, I made over $200 in my second month with affiliate marketing. And that was as a complete newbie, with no experience with affiliate marketing. 
You can apply directly to companies or small businesses to become an affiliate, or you can apply to Affiliate Networks, like Share A Sale.
Share A Sale was the first affiliate network that approved me, and that was when my blog was brand spankin' new and had only three blog posts! The great thing about joining affiliate networks like Share a Sale is that they have hundreds of other (well-known) companies within their program, so you can work with as many companies as you want, once you apply to Share A Sale.
Once you are approved with Share A Sale (and I recommend having a proper business email AKA your own domain email, if you want to get approved right away), then you can pick and choose which companies/program within the Share A Sale dashboard that you want to work with.
It's a wonderful program for any type of blogger, in any niche. They have oodles of companies for lifestyle bloggers, parenting bloggers, business bloggers, and many other popular niches.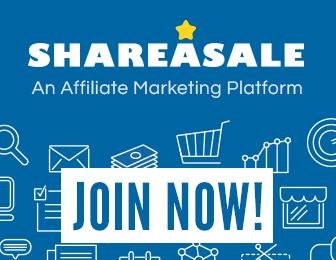 4) Create your own digital products
Hands down, this is by far the best route, if you want to make money with your blog. 
Digital products are anything like e-books, e-courses, email courses, masterclasses, selling printables, or any other digital product you can think up!
If you create an E-Course, then the main thing to make it profitable is to establish your target audience's pain points first, and then solve that problem in great detail in your course.
So what major issues are your readers facing? I know that most of my readers are bloggers, and a common theme with any blogger (new or experienced) is not getting enough traffic or how to make money blogging. So that could be a pain point that I could create a course around. (Although, that is not what my course is about 😉 )
Even though it can take a hefty amount of time to craft a valuable digital product, that will actually sell, the wonderful thing is that after you put in the initial work, you're done.
Well, not exactly. There may be updates to your course, dealing with your affiliates if you decide to bring on affiliates to help you sell your course or e-book, and other small things. But for the most part, it's a passive income stream, and you can rest easy knowing your making money while you sleep.
Sounds like a dream, huh?
I can assure you it's not, and there are many bloggers who are making a killing at selling their own products.
Melissa Griffin is well-known for her a-mazing e-courses. Her last income report she posted, she made $283,000 IN ONE MONTH. Mind-blowing, I know.
But that goes to show you it is possible, and you shouldn't underestimate yourself or hold yourself back because of fear of failure.
There are countless ways to make money with your blog, even as a busy stay-at-home mom. Don't let being a mom hold you back, either. I did, for so long. We tend to put our children's needs ahead of our own, and sometimes lose who we are in the process.
I know I did.
But, in the past 8 months, I have slowly started to become my own person again. Someone who has goals, ambitions, dreams, and passions.
And I know you have those, too.
So get out there, and make it happen! Let's kick some serious blogging butt our there mommas!
XO Alee
RELATED POSTS: