It's that time of year again where our Facebook newsfeed's blow up with all kinds of "New Year, New Me" cliche statuses; but you know what? I don't find anything wrong with setting higher standards for ourselves and our businesses for the next year.
In fact, I think that every one of us should be setting actionable goals for 2017.
But perhaps instead of thinking of them as resolutions (because who actually follows through with those?!), we should set achievable goals that we know we can follow through with.
For me, the biggest goal I have set for myself is to make a full-time income blogging in 2017.
And I am going to do it; whatever it takes. And I'm going to show you exactly how I plan to do it – and how you can too. 
I know that it's not possible to predict your future, but I fully believe that we create our own realities.
What I mean is, if you believe in yourself and put in a hell of a lot of hard work, you can accomplish anything. And there is nothing wrong with having profit on the mind when starting a blog. It just means you want to turn your passion into your career. 
Anything worth having takes time.
And I'm prepared to put in the work to make blogging and freelance writing my full-time income source. 
There are bloggers all over the world making thousands of dollars a month with their blogs.
Some of them are pulling in over a million dollars a year, after only blogging for a few years. I find those stories so inspiring.
It certainly didn't happen overnight for any of them, but they are proof that it can be done.
To see great results, you have to stick around long enough to see them. Be patient, you'll be glad you did.
Most blogs that fail only fail because they got impatient when they didn't see immediate results and gave up before "the magic happened."
I'm going to show you exactly how I plan to make a full-time income blogging in 2017, and how you can too!
If you're ready to take the leap too, here's my step-by-step tutorial to start a WordPress blog.
Disclaimer: This post may contain affiliate links. That means, at no cost to you I will receive compensation if you purchase something through an affiliate link; this helps run The Beautified Life. So thank you for supporting my dream 🙂 For more info on my disclaimer, click here.
1) Post good-quality content, twice a week.
You often hear: Content is king.  Well, it is.
 I'm sure this isn't news to most of you, but…
There must be some balance. When you see a blogger posting once a month, it just isn't enough (unless perhaps you already have hundreds of fantastic blog posts in your archives to keep your readers occupied.) But, it's equally as detrimental to your blog or business to post too often.
Yes, you read that right.
What I mean is, when you see a blogger posting every single day, and the posts are extremely short, and just well… lacking quality; it's just as bad for your blog, as posting infrequently. I would rather have even just one awesome blog post a week, then 20 sub-par posts in a week.
Quality over quantity, always.
For most of us, it's not feasible to write a 2000 + word, keyword-rich, good quality, blog post in a few hours. Especially if you're a mom or just a busy women in general.
I think a happy medium would be one to two times a week. Since writing a blog post also involves research, creating Pinterest graphics, finding relevant images, and usually editing and proofreading yourself; it can take time to produce a decent blog post.
So, I'm going to write twice a week. And my posts will be long-form (1500-2000 words).
And I'm going to try my darnedest to produce good-quality content; that benefits my readers. I will continue to do this every week of the entire year.
I'm also going to begin writing blog posts ahead of time. This will save so much time in the long run.
2) Affiliate Marketing and Creating Digital Products
Affiliate Marketing
For most bloggers, a common money-making theme is affiliate marketing. An example of a very successful blogger who is making a killin' at affiliate marketing is Michelle at Making Sense of Cents.com. She is pulling in $50,000 A MONTH, from affiliate marketing alone. (And much more from other sources through her blog).
She is a prime example that with a ton of hard work, anyone can make a full-time income blogging.
To earn money with affiliate marketing,  you do need to have loads of patience – because it takes time, to develop relationships with your readers, and turn them into customers.
I'm going to focus on just a few affiliates (even though I was an eager-beaver and signed up with loads of affiliate marketing programs. Hey, I enjoy A LOT of products/services lol)
If you're serious about affiliate marketing, I recommend checking out Michelle's course at Making Sense of Cents, called Making Sense of Affiliate Marketing.  I plan to take this course within the next few months, as well. From what I hear, it's an incredible course and students of this course have seen crazy results after implementing what the course taught them.
Creating Digital Products
Creating your own products is an incredible way to ensure a steady income. Because they are your own products you're promoting, you have complete control over everything. (and for a control-freak like myself, this certainly is appealing 😉 ) The earning potential is limitless with creating digital products.
Melyssa Griffin at melyssagriffin.com is the queen of E-Products. She is famous in the blogging and entrepreneurial world for her kick-ass courses. She built her business from the ground up in a few short years and focuses solely on creating her own products. She's now making over a million dollars a year – which is astonishing. She has been an inspiration for me, from day one.
2017 will be the year that I launch my very own course, Which I'm absolutely thrilled to share with all of you.
My goal is to launch my course by the summer of 2017, possibly sooner.
If you want to create your own info products, check out this post on Melyssa Griffin.com. She really breaks it down in her info product series.
3) Step Up My Social Media Game
It's no secret that social media is essential if you want to grow your blog and make a full-time income blogging.
As much as I try to spread myself over every single social media platform there is available – it's just not possible to do it on my own. I didn't plan on ever using automation tools in the beginning, but recently I've come to the realization that they're a necessity when trying to earn a full-time income blogging or run an online biz.
Although, I will never jump on the bandwagon of sending automatic messages to every person who follows me on Twitter.
(Is it just me, or does that not feel insincere?) Yet, so many people are doing it. I don't see how it could possibly help your blog or business, either. When so many people find this a turn-off. So, please don't do it lol.
When it comes to scheduling posts on Twitter, Facebook, and Pinterest – I'm seeing the allure. Just this week I have started with Buffer (for those of you not familiar with it, it's a social media scheduler – and so far I'm really digging it).
I was skeptical at first because I felt it was "cheating", but boy is it not! You still have to find and create ALL of your content. The only thing it's doing for you is posting your pre-planned content at certain times. Which is very handy.
So, my goal is to step up my game on Twitter, Instagram, Facebook, and most importantly: Pinterest.
I plan to utilize Facebook ads this year – but my main social media platforms to work on will be Pinterest, Twitter, and Instagram.
I have built a reasonably healthy following on each of these platforms in the past few months, but in the past few weeks they have plateaued a bit; so I'm giving myself the following goals to reach by the end of 2017:
Twitter- Reach 10K by the end of 2017.
Pinterest- Reach 5K by the end of 2017.
Facebook- Reach 4K by the end of 2017.
Instagram- Reach 10K by the end of 2017.
If you want to up your game on Pinterest, check out this post where I give you tips to dramatically increase your blog's traffic using Pinterest. I will be using these strategies to reach my goals. (And I've already seen a difference on Pinterest since implementing them).
Some of these goals are pretty scary to me, but following certain strategies I've already gained over 1000 followers in 30 days, on a couple of these platforms.  So I know it can be done, and it will certainly help me make a full-time income blogging. If you're interested in hearing how I grew my following on Instagram and Twitter to over 1K in less than a month, leave me a comment below, and I will do a blog post on it!
4) Earn Part Of My Full-Time Income From Freelance Writing.
Freelance writing is an excellent way to bring in extra money or earn a steady full-time income.
If you're a blogger, chances are you would be a wonderful candidate for freelance writing.
I first started posting on websites like Up work, Guru, and Fiverr – but was not having much luck. I found that these sites are difficult to find work on unless you are a highly experienced freelance writer.
So, I plan to try other avenues such as: finding gigs on Twitter, Linkedin,  Facebook groups for entrepreneurs and bloggers, and guest posting for other bloggers or website owners.
If you're wanting desperately to get into freelance writing and you are not having much luck, you should check out Elna Cain's course called Write Your Way To 1K, where she shows you exactly where to find these writing gigs, and takes you through everything you need to know to earn your first $1000 in seven weeks. (And then keep earning!) Whether you find help figuring out what to say in pitches, how to find your profitable niche, how to find high-paying clients that will pay $100-400 per blog post – this course covers it all and will help you get there!
These are the tips and strategies that Elna uses, and she is an exceptionally successful freelance writer. Just click the image below to check it out, or click here. Her course has helped me tremendously in my own freelance writing career!
UPDATE: I've been freelancing for a while now since this post was published originally in January 2017. Through Elna's course and learning how to market myself without using content mills or bidding sites, my freelance business is doing well and this course 100% was the reason for that!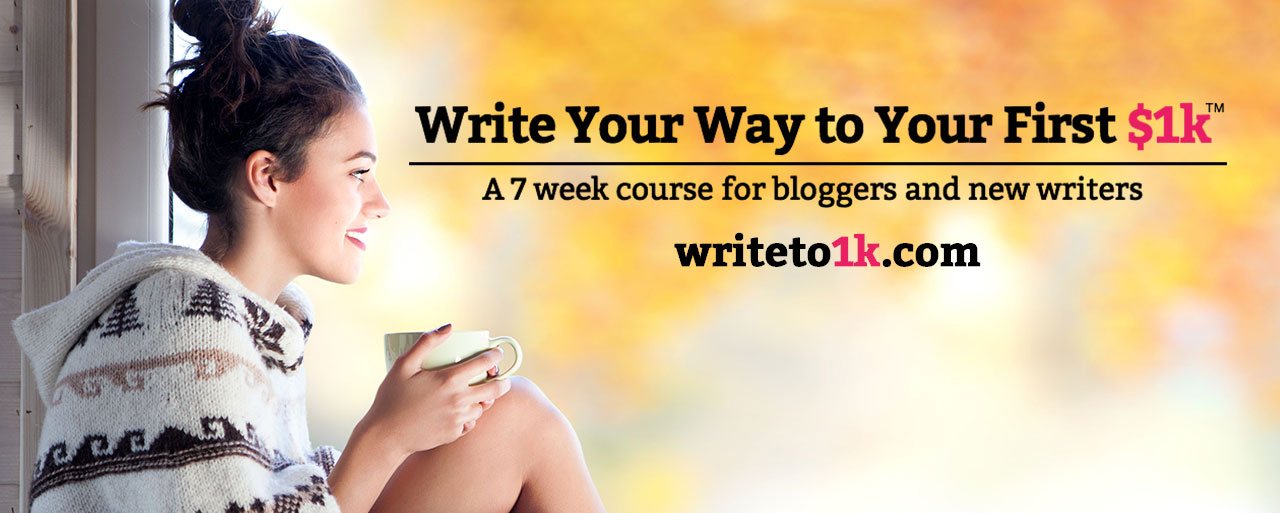 5) Start a Resource Library (for bloggers and mompreneurs)
This is something I have been slacking on, only because, for me, blogging has been a part-time gig thus far, and there are only so many hours in the day (especially with an energetic toddler running around.)
I'm currently working on a kick-ass content upgrade for you guys (for those of you not familiar with a content upgrade, it is basically a freebie you offer your readers.)
The plan is to have my first content upgrade completed and sent out to my subscribers in the next week. After that, I'm going to work my butt off creating an awesome selection of freebies, that I will have in a resource library, on my blog. (Again, this will be for subscribers, so if you haven't already signed up – you're going to miss out on some fantastic stuff! 😉 )
You can subscribe at the top of every page on my blog, FYI.
My goal is to have the resource library finished and live no later than May 2017. And in the meantime, I will be sending out various blogging freebies in my newsletters, starting with my first one that will go out in the next week.
6) Create an Editorial Calendar + Get More Organized for 2017
Editorial calendars are very trendy right now – and for good reason.
An editorial calendar is basically a 12-month calendar where you store and organize your blog posts.
The ones you see the most are large wall calendars with sticky notes for each day, with topics you can write about. But you can also do them online, on websites like Trello.
For me, I already have a gazillion sticky notes and notebooks lying around, so I prefer something physical I can write on, instead of on my computer.
The idea is that you will have loads of blog post topics and ideas for the following year.
I'm going to give an editorial calendar a try, but that's not all.
I'm currently in the process of putting together a blogging planner for 2017. I have used a combination of free and paid printables, to create my own blogging planner that suits my needs. This has got me thinking that I may create my own free printable blog planner since none of the ones I have found seem to have everything that I would need.
I will then put these pages into a slim white binder, and use dividers to organize everything.
Two of the websites where I found the free blogging planner printables are:
Even though my blog is new, I feel like I have wasted time not being totally organized. Which is why I'm starting 2017 off with a bang, and implementing an editorial calendar, a blogging planner, and keeping track of everything. 
If you're serious about growing your blog or biz and want to make a full-time income blogging, I suggest you do the same.
Organization is key.
7) Give My Blog a Face-Lift + More Focus
You hear everywhere that you must have a niche in order to earn a full-time income blogging.
Well, I don't think that's exactly true.
There are many, many successful bloggers out there that are lifestyle bloggers, or simply blog about a variety of subjects.
I do, however, think you must have a focus and a target audience.
You can still write about a few varying subjects, but it's important to have some type of focus so that you can pinpoint your target audience.
Why is this crucial? Well, if you plan to make a full-time income blogging then you probably are going to either start affiliate marketing, creating e-products, or something of the sort.
And without a well-defined audience, it makes this difficult.
Which is why I'm in the process of changing things a bit at The Beautified Life.
This blog started as a beauty and lifestyle blog, believe it or not.  But I quickly realized though I do enjoy these subjects, I'm more passionate about blogging, and teaching other moms to take the leap, start and grow profitable blogs, and learn how to turn their passion into profit.
That is what I have found I'm truly passionate about. So there is my "niche".
So, in the next month, there will be some exciting changes here. But, don't worry – there won't be anything too drastic changing.
This also means I will be playing with my branding a bit. I'm thrilled for the changes to come this year.
When you have a blog or online biz, setting actionable goals is a must.
I would love to hear what your blogging goals are, and if you plan to earn a full-time income blogging this year?
Until next time,
XO, Alee
RELATED POSTS: