When I began researching blogging and other ways to earn money from home, I honestly thought it was near impossible to make a full-time income this way.
I believed that most "work from home" opportunities were scams, like many of you, I'm sure.
And I thought that making an income blogging was more of a myth than anything.
 I've always enjoyed writing, but I still was skeptical, until I took the leap myself and created this blog.
Mainly, because I thought it was out of reach, for me.
And maybe you've felt the same.
But, when I began my many months of research before starting this blog, I was blown away at how many ways there are to make money online.
I could sit in my yoga pants, with a coffee in hand, and earn money. For the first time in years, I felt like my dream job was within arm's reach.
And this can be your reality, too.
I think you will find several profitable ideas from this post, 15 Legit ways to earn money from home.
Let's dive right in, shall we?
Disclaimer: This post contains affiliate links. That means, at no cost to you I will receive a small compensation (to help run The Beautified Life) if you purchase something through one of these links. For more information about The Beautified Life's disclaimer, click here.
1) Blogging
Blogging is probably the most popular way to earn money online, and you can do it from the comfort of your home, best of all.
There are loads of ways you can make money online that stem from having a blog. In fact, most business owners do have a blog for content marketing reasons.
Traditional marketing doesn't cut it these days, so having a blog is a necessity if you want to level-up your business. 
There are oodles of ways to generate an income from a blog, but I'd say the easiest and most popular is affiliate marketing.
I will go through the top four ways you can make money with a blog.
Affiliate Marketing.
What's affiliate marketing?
Affiliate marketing is when you refer people to companies or brands, and the businesses and brands will pay you a commission of the sale. Some companies will pay you per lead or per click, but the majority pay per sale.
With affiliate marketing, there are what's known as affiliate marketing networks, like Share a Sale.
The first affiliate marketing network I applied to was Share a Sale.  Once you are approved (I was approved immediately), you can then apply to tons of companies within Share A Sale. When you apply to join Share a sale, you then have access to hundreds of popular companies, such as Modcloth, Wayfair, StudioPress, and TailWind. You can then apply to whichever affiliate programs within Share a sale you wish.
The other way to do affiliate marketing is to join a company's affiliate program directly. You can even search your favorite companies (if they are relevant to your blog and your niche), on Google by typing in the companies name and putting + affiliate program at the end. This will bring up lots of affiliate programs.
The options are endless.
 Ad Networks.
Google Adsense and Adthrive are two of the most popular among bloggers and business owners. After you sign up and are approved, you then put banners or ads on your website.
While this is easy; you won't get rich doing this, since you are paid per clicks or impressions, in most cases. So you would require an enormous amount of traffic to make much money this way.
Which is why I don't really recommend starting off by putting ads on your website.
It can be off-putting to many readers, and like I said, unless you have a gigantic amount of traffic, you will see merely pennies.
sponsored posts.
Sponsored posts are when a company pays you to write a blog post or review about their product. Sometimes this just means reviewing some products and then being paid to advertise them on social media.  Sponsored posts are particularly popular with Beauty or Lifestyle bloggers.
 Sponsored posts are particularly popular with Beauty blogger,  lifestyle bloggers, and parenting bloggers.
And, by far the best way to make money on your blog: Creating your own digital products
Creating your own products is hands-down the best way to make money blogging.
This can be anything like an E-Book,   an E-Course, a membership site, or even creating printables to sell. This is a fabulous way to earn money blogging because once you put in the work to create your digital product, this is a passive income source.
And of course, you can offer services on your blog, like many of the ways to earn money online I will mention in this post.
If you want to start a blog, check out this post where I show you exactly how to start a blog and make money from day one. Then be sure to reference back to this step-by-step post to show exactly  how to set up your blog 
2) Freelance Writing
Probably the easiest way to earn money with freelance work is to write for other blogs. Before you start doing this, you can always begin by guest posting for free on other blogs. This is a excellent way to get your name out there, and it will also get you some experience writing for others.
You can also post ads on websites like Up work, Guru, or Fiverr, to advertise your freelance writing services. You don't need any particular education to do this, but these jobs tend to be on the lower end of the payment scale. This is a starting ground if you're unsure of where you can find freelance gigs, but even then, I wouldn't recommend taking this route.
There are are far better ways to break into freelance writing. 
And if you want to learn these better tactics, and get serious about freelance writing;, I would suggest checking out Elna Cain's course called Write Your Way to 1K.
This course will show you how to find your profitable freelance writing niche, give you examples of cold emails you can send to potential clients, it will help you score consistent high-paying clients, and of course, it will show you how to earn your first $1K in only 7-weeks.
Elna is a stay at home mother of twins, and I find it so inspiring that she manages to run a highly successful freelance writing biz, as well as manage her two other blogs, and still have plenty of time for her family.
This could be you, too!
This course is info-packed with strategies that Elna herself used to become a part-time freelance writer, making a full-time income, in only 6 months.
I conducted an interview with Elna Cain recently, where she gave me inside insight on how she (a busy mom) was able to become a successful freelance writer making more than most of us could possibly imagine – in only six months. You can read my interview with her here.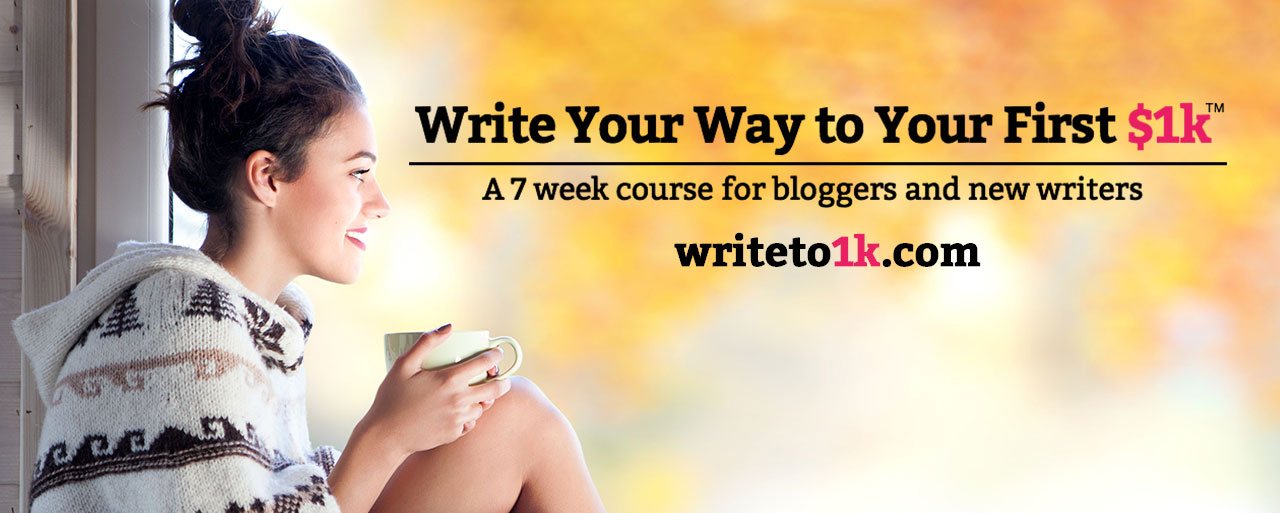 3) Ghost Writing
Ghostwriting is somewhat similar to freelance writing. Ghostwriting is when your name is not affiliated with the writing work you do for someone. So basically you are anonymous. If you are an aspiring freelance writer, chances are you will end up doing some ghostwriting at some point. They kind of go hand in hand.
And, ghostwriting tends to pay a bit more than your standard freelance writing.
If you are a talented writer, or enjoy writing and have a decent writing ability – this may be the way to earn money online for you!
You could also check out this course to help you get started with ghostwriting.
4) Virtual Assistant
Virtual assistants (or also known as "VA"), can do just about anything. VA's are responsible for various tasks such as email marketing & management, social media marketing, blog management, WordPress assistance, and basically any other administrative task you can think of.
Everyone needs a little help sometimes, and when you're a virtual assistant, you're never going to run out of work.
As long as there are online businesses and bloggers, this job will always be in high demand.
5) Selling Digital Products
I am currently working on creating my own digital products. As I mentioned earlier, creating and selling your own products is where the real money is at for bloggers.  Digital products are anything like E-Books, E-courses, software, graphics, and printables.
Anyone can create digital products these days.
If you have a bit more knowledge than most people about a subject, then you could create a course or E-Book about it. Another idea is to ask your readers what issues they are having about that topic.
This is an excellent way to find out what would benefit your readers the most.
The vast majorly of bloggers are creating their own products these days, and they are quite successful.
I recommend every blogger gives this a shot. Not only are the earning potentials limitless, once you create your digital programs, they basically sell themselves. So it's completely passive income. And that's what every serious blogger should strive for.
6) Coaching
You can offer coaching services for just about anything. Whatever you consider yourself an "expert" in. In fact, you don't have to be an "expert." You just need to have solid knowledge about a topic – more than the average person has.
There are life coaches, fitness coaches, blog coaches, business coaches, and so much more.
Coaching has become a hugely popular avenue to earn money at home.
7) Photography
Photography is something that can be self-taught.
If you have a knack for beautiful pictures or just enjoy taking photos, this may be for you.
I know several professional photographers who are completely self-taught and are making an amazing income.
A common way for photographers to make a decent income is to offer memberships to their website, where readers will pay a monthly fee to have access to your stock photo library. Generally, the photographers add new images every month, to keep the customers coming back.
There is a major market for stock photos, especially for bloggers and creative online entrepreneurs. This is something that will be in need for a long time, if not, forever.
An excellent way to draw people into your photography site, and ensure they make future purchases, is to offer free stock photos as an "opt-in" to your mailing list.
8) Online Teacher or Tutor
If you have a background in teaching, this may be the job for you. In some cases, you don't need a teaching degree- just work experience in this field.
A few places looking for online teachers or tutors are:
You can also start a blog, where you blog about things relevant to whatever you are teaching, and of course, you would offer your teaching services on your website. This would be an excellent way to market yourself to get more clients.
9) Paid Surveys
There are loads of paid survey sites out there, and it's an excellent way to make an extra few hundred dollars a month. Every month you can pull in steady money, as much or as little as you like.
Here are a few paid survey sites that I use that are well-known:
Swagbucks – This is a very common survey option, I use it daily. They pay in cash and gift cards. Awesome survey site.
Ebates – This isn't a survey site, but it needed to be on this list. If you do any online shopping, you can do your online shopping through Ebates and you will get paid. Ebates has almost every popular merchant you could think of.  You also get a bonus just for signing up. You can also earn money by referring people!
CashCrate – Earn cash sent directly to your PayPal! This one adds up quickly.
Inbox Dollars – You earn money by taking surveys, playing games, and searching online, it's an excellent one
To sign up for Inbox Dollars click here. 
10) Proofreading and Editing
Many people need a fresh set of eyes to look over their work. In fact, most bloggers and online business owners do at some point.
You can even proofread for college students who need a paper looked at, or authors who are publishing a book. Having a blog can be very beneficial if you want to do freelance proofreading or editing.
Having a blog can be very beneficial if you want to do freelance proofreading or editing.
11) Web Design
There is more to website design than just having an eye for design. As a web designer, you are expected to have a solid knowledge of Photoshop,  HTML, CSS, and Javascript.
But, you do have the ability to make a steady passive income, if you design website themes – because they sell over and over without you having to do a thing.
Well, except maybe assist customers and updates the themes from time to time. You would have that responsibility. But this an excellent gig if you're talented at web design.
It can also be self-taught these days.
12) Email Marketing
Every new blogger or online business owner needs to learn at least the basics of email marketing. Growing your email list is so crucial when you want to earn money by blogging.
It would be ideal if you had already built your email list (or someone else's.)
Sometimes this type of job can be lumped in with social media marketing, so you can also advertise that you offer both services.
This career will always be in high demand.
13) Graphic Design
Graphic design is something I would love to do. As a blogger, I dabble in it of course.
Perhaps one day I will take the leap.
If you enjoy creating visuals like social media graphics and blog post images, this may be the career for you.
You must be familiar with Photoshop and other editing software.
I know I love playing around with social media graphics, and maybe you do too? You can make some serious money doing graphic design.
This skill is always in demand.
14) Social Media Marketing + Management
Who wouldn't love sitting on Facebook all day? Me, Me! Well, it's not quite that easy. But it can still be enjoyable.
Even with all the social media schedulers out there, you still need to set it up manually.
Someone has to do that.
As long as businesses are using social media to grow their traffic and following (which they always will be!), Then there will be a need for social media managers and marketers.
15) Start a YouTube Channel
There is a YouTube video for everything these days. Some people use their channels as a hobby, but it's becoming much more popular to make YouTube a full-time job.
And why wouldn't you?
Of course, you need to be comfortable talking on camera or at least get used to it.
There are a few ways you can monetize your YouTube Channel:
Ads. You can activate ads as soon as you begin, and they usually will play at the beginning of your video.
Affiliate Marketing. You do the same thing you would with affiliate marketing on your blog.
Sponsored Content. This is where a company asks you to feature their product(s) in your video for a set price.
To get started with a YouTube channel, you will need a decent camera and some lights so you appear professional, and you look like you know what you're doing.
You don't have to invest in a super expensive camera right away, you could use something much more affordable like this one here.
If you can afford to splurge on a top of the line camera, this one I recommend.  I also recommend this ring light. With a ring light, you can shoot in any conditions, even if it's dark outside.
Just make sure the companies you work with are companies you fully trust and can honestly stand behind.
There's nothing worse than seeing someone promote a product that you know they wouldn't personally touch with a ten-foot pole.
As you can see, the options for earning money at home are endless. There is a trend with most of these jobs: Having a blog.
When you have a blog, you can better advertise your services, and show off your work. It doesn't need to be difficult to start a blog either. If you want to start a blog you can check out my recent blog post "Ultimate Beginner's Guide to Starting a Profitable Blog." Where I fully explain and walk you through everything you need to know to start a blog, and start making money with it from day one.
I will be adding to this list periodically (hence the 15 +) So keep checking back for even more ways to earn money at home.
If you have any ideas for more ways to earn money at home, let me know in the comments and I will add them to the list.
Alee xo
Save
Save
Save
Save
Save
Save
Save
Save
Save
Save
Save
Save
Save
Save
Save
Save